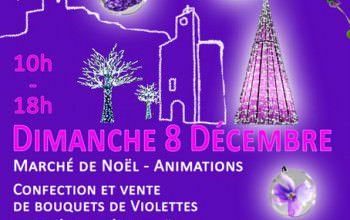 The town council of Tourrettes sur Loup invites you to take part in a magical Christmas day honouring the violet in all its forms.
Young and old will be marvelled by the 'recycled' Christmas villages created by Véronique Dias using salvaged and reclaimed materials : fabric, jewellry, lace and various other trinkets… a unique creative and imaginative universe.
From 10am till 6pm – Christmas market : follow the violets to discover different workshops and demonstrations which mark the day : face-painting, wooden games, balloon sculpture, farm animals… not forgetting the stall dedicated to composing bouquets of violets when each person will leave with their flowers.
Not to mention the arrival of Santa Claus to the village, for the joy of the little ones.