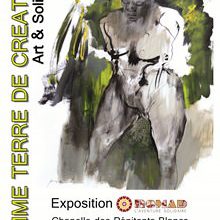 Cultural exposure … "Woman, earth creation" welcomes artists of excellence including some internationally renowned around a universal and inexhaustible theme, the woman, who by his wealth, the artist submits the challenge a personal, new vision, bold.
Integral part of the sales … of the exhibition is paid to Nomad Club who work for 28 years to the development of humanitarian projects in Africa, India or Peru.
To discover at « la Chapelle des Pénitents Blancs – square Frédéric Mistral (free charges)
Enjoy the event during your stay in our guesthouse on the French Riviera situated a few kilometers from Vence.