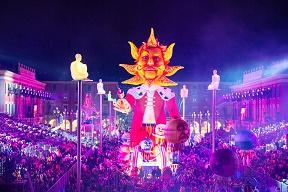 A carnival, there's a thousand and one reasons to come. Far from the grey, Nice, at this time of year, enjoys itself without moderation. The Nice carnival is the chance to get intoxicated with pleasure and good humour.
Ambiance and profusion of colours assured! On floats decorated with thousands of flowers, pretty young ladies dressed in magnificent costumes throw mimosas, gerberas and lilies to the public.
The carnival period, apart from its festivities, offers a marvellous opportunity to discover Nice in winter:
the mild climate, the luminous sky and the Côte d'Azur way of life will complete your programme, already rich in confetti and emotion !