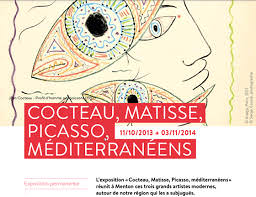 To commemorate the 50th anniversary of Jean Cocteau's death, the museum proposed an exhibition event entitled Cocteau, Matisse, Picasso, Mediterraneans.
The three masters are once more reunited at the Jean Cocteau museum, Menton.
This, the new museum's third picture hanging, is a must see up.  It puts the artists' contemporary work back into the extraordinarily fertile artistic context of the Côte d'Azur's after-war years through 400 works.
Cocteau, Picasso, Matisse, a common passion: the Mediterranean. The three masters reunited in an exceptional exhibition.