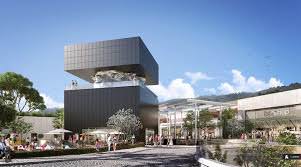 Polygon Riviera aims to invent 'The New Art of Shopping', that is to say, a place that combines shopping, entertainment, dining space and contemporary artists.
In its tender, Riviera Polygon brings together 105 stores ranging from fast fashion to some luxury installed in different architectures, for some more contemporary and more traditional for others.
The mall promotes contemporary art through the installation of works by artists who designed them only for the occasion. Ten works are scattered and on the website. The center is dominated by the "good watcher," a work of 15 meters in diameter and 22 meters high, representing the head of Julius Caesar conducted by Sacha Sosno.
A new attraction on the French Riviera just a few kilometers from the guesthouse Bleu Azur.